If you would like to send a questionnaire to your client without having to go through the full booking process, you can follow this tutorial to set that up and send it to your client.
Setting It Up
From the main menu click on Booking » Questionnaires.
Click on Create Questionnaire.
Create a Name for the questionnaire. The name that you give the questionnaire will only be visible to you.
Add a Client Note. Add a short note or instructions to display to your clients as they fill out the questionnaire.
Click Next.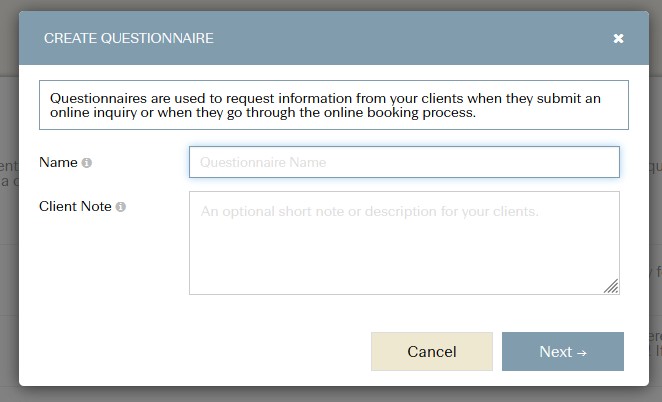 Add the questions that you would like to send to your client. You can choose whether the answer is required and also click to add more questions to the questionnaire.
Click on the box with the quote to see the types of questions you can ask and to also delete a question if you need to.
Once you are done click Save.
You can also customize the confirmation message your client see's after they submit their questionnaire.
From the main menu click on Booking » Preferences.
Locate Standalone Questionnaire Confirmation and edit the message as desired.
Click Save Preferences.
You may use the dynamic keyword [[CLIENT_NAME]] anywhere within your message, and it will automatically be replaced by your client's name when the message is displayed.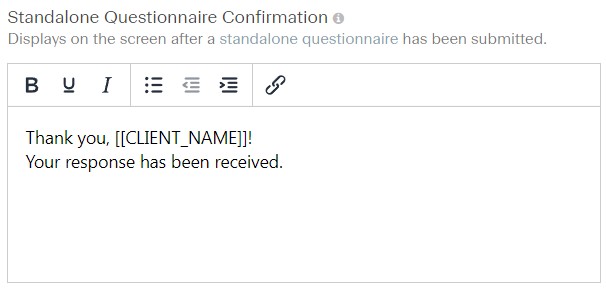 Once you have that setup your newly created questionnaire will appear in the Custom Questionnaire section of the Questionnaires page. You can click on the name of the questionnaire to see the details and make any needed edits.
How Do I Send it To My Client?
From the Questionnaires page click on the Options box to the right of the questionnaire you want to send to your client and choose Request a Response.
Choose the questionnaire you want to send.
Select who you want to send it to or click to create a new client record.
If you want this to be sent on a future date choose that date otherwise the questionnaire will be sent immediately upon saving.
Choose the option to Send email reminders if you wish. Select the time frame(s) for the reminders.
Click the option to modify the email template if you wish to.
Click Send Response Request.
You can also start this process by going to Booking » Clients then next to your clients name click on Options » Request Response. (This option will only appear if you have one or more Questionnaires created.)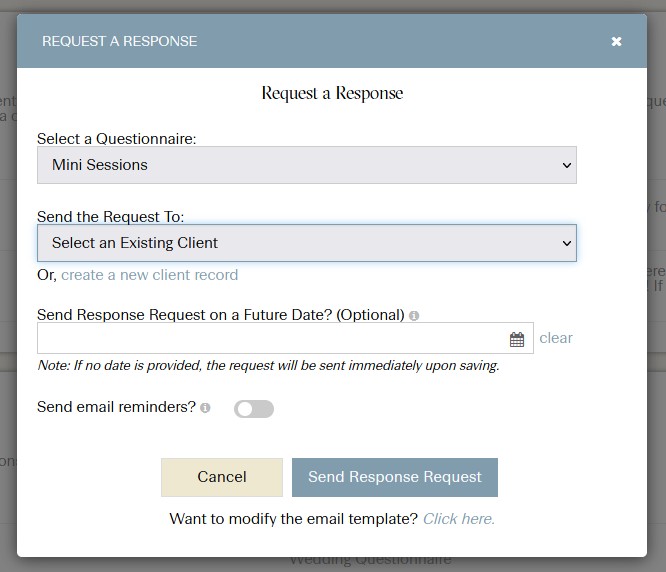 What Happens Now?
Your client will receive an email with the questionnaire. They can click on the View Questions button to start answering your questions. Once they are done they can click the Submit Response button at the bottom of the questionnaire.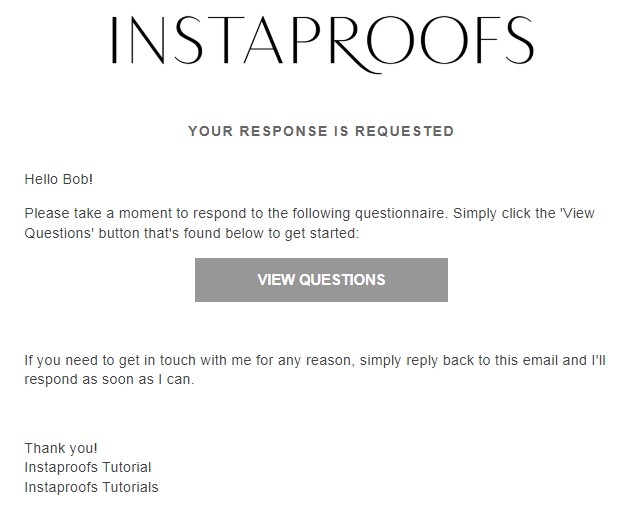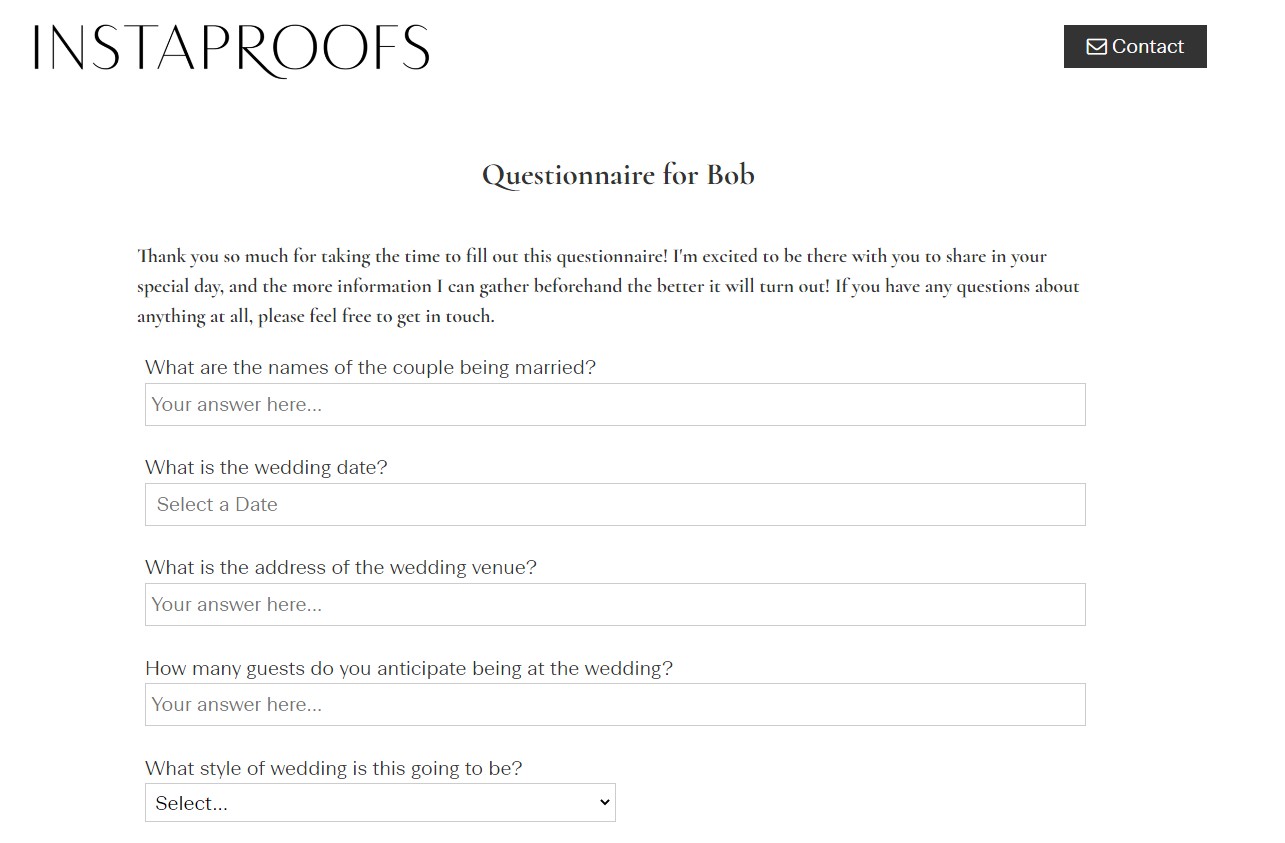 On your Questionnaires page you will see a new entry for the questionnaire that was sent. If the client hasn't filled it out yet if will say Sent. Once they are finished filling it out and have sent it back it will say Complete. You can then click on Complete to see their answers. You will also receive an email once they have sent the questionnaire back. Your client will also be sent a Response Received email that includes the questions and their answers.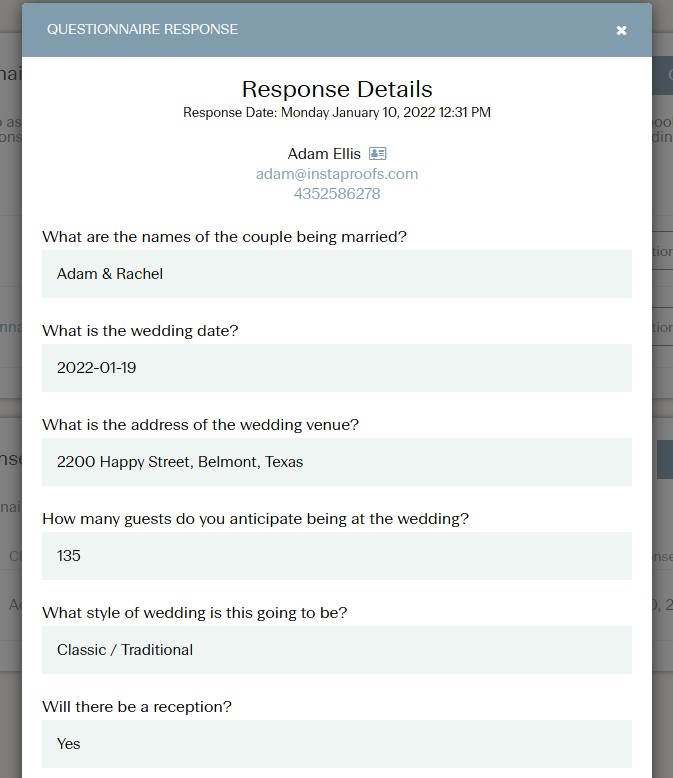 If you would like to have a questionnaire filled out by multiple people without emailing it to all of them or to those who are not currently on your client list you can copy the url and paste it into a social media post or a website. To do that just click on Options » Copy URL next to the questionnaire you want to send out.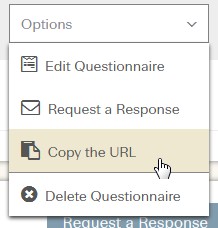 When someone clicks on the URL they will be taken to the questionnaire page where they will add their contact information and fill out the questions. Once they send that back you will see their response in your Requested Response area and their info will be added to the Clients area of your Booking section (Booking » Clients).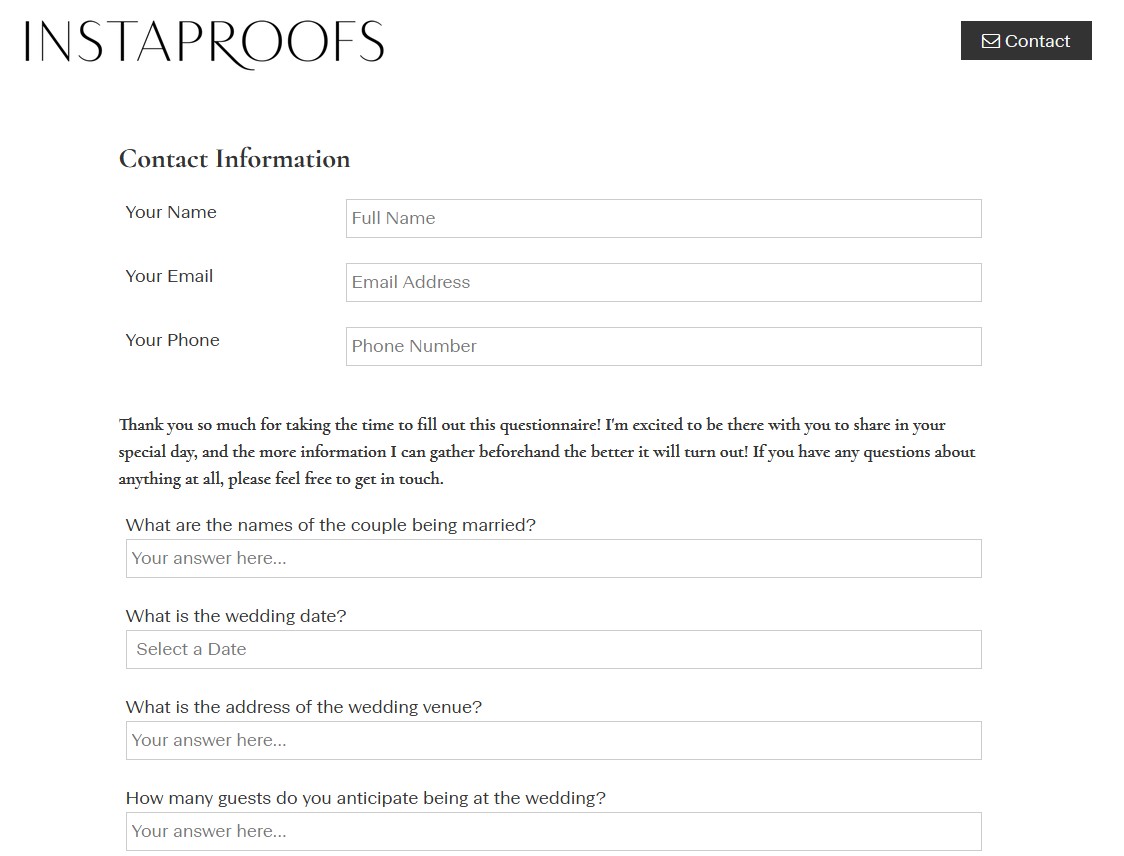 Please see our video tutorial on Standalone Questionnaires here.