All of your sessions can be viewed through the Booking » Booking Sessions page.


Session List
The session list will display all of your sessions, broken down by date. All of your sessions, including your past and future sessions will be displayed in the list.
Session Filter
If you're looking for a specific type of session, you can filter the list by clicking the box in the upper right corner and selecting the specific Session Type that you'd like to see.
Session Details
Clicking on any of your sessions will take you into the details page, where you can view and modify the session details (if the session hasn't already been fully booked yet).
Session Spot Details
If you're looking at the details for a Multi session, the details page will show you all of the spots that you created for the session. A summary of the session spots will be displayed at the top, and the individual sessions will be displayed below.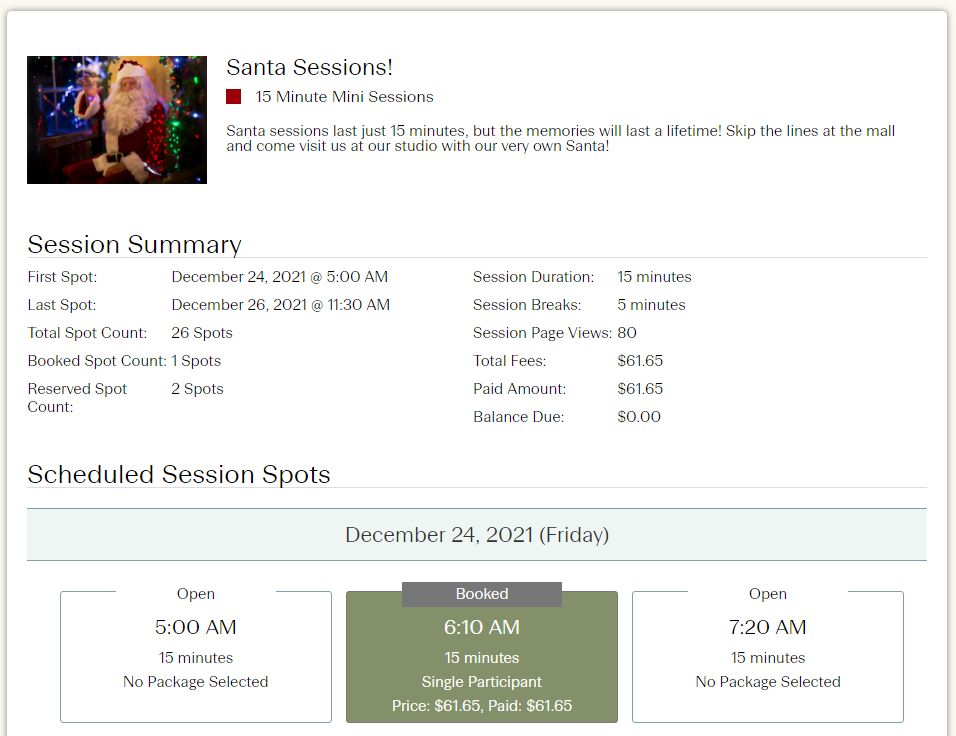 Clicking on any of the Booked session spot will cause the details for that specific spot to be displayed.


Reserved Session Spots
Clicking on any Reserved session spots will allow you to see and adjust details for that session spot before your client books it. A reserved session has not yet been confirmed by your client.
You can also see a calendar view of your booked sessions as well. Just click on Booking » Calendar View.
From there you can click on each listed booking to see the details. Click the button in the upper right to Schedule a New Session.