Multi Sessions have multiple predefined time-slots and/or clients associated with them. They include mini sessions, conferences, studio sessions, etc.


Step 1: The Session Details
The link that you send to your clients for a Multi session will take them to a screen that displays the session details. These details include the session's name, description, price, time, etc. If there are multiple options for your client to select from for the session, the details for each of the different options will also be displayed.


Step 2: Select a Session Spot
All of the available spots for the session will be displayed below the session details. Your client will need to view the available options and select the spot that they'd like to book. Spots that have already been booked or reserved will not be selectable.
Step 3: Complete the Questionnaire
Once your client has selected a session spot they will have 30 minutes to complete their booking. If they don't complete their booking within 30 minutes the time that they selected will be taken away and made available to others once again through your site.
After selecting their spot, your clients will then provide their full contact information. If you've selected a Questionnaire to be displayed during the booking process, your clients will also be asked to complete the questions that you've included in the questionnaire.


Step 4: Sign the Contract (if selected)
If you have chosen to include a contract template your client will be asked to sign at this step.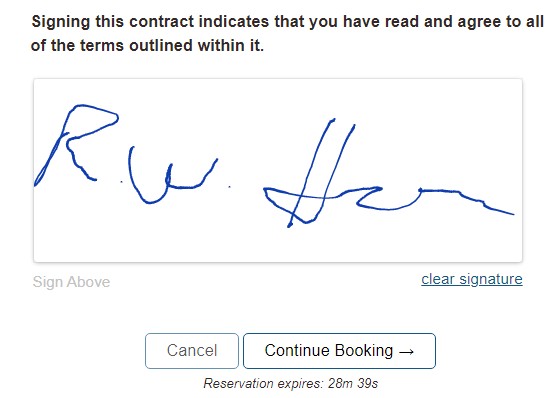 Step 5: Pay for the Session
The last step in the process is to pay for the session.


Once the payment has been submitted, both you and your client will each receive two emails:
A confirmation email listing the details of the booked session.
A receipt for the session payment.
This article displayed an example of a session with a Multi classification. You can view this article for an example of a session using the Single classification.