You can streamline your Purchase Options setup and your Lab Product setup by following this tutorial. Using the import functionality will allow you to quickly add several product options to your storefront at once. The items that you import can automatically be priced as they're imported, and they will be added to your Lab Setup page for you as well.
Getting Started
From the main menu click on Selling » Purchase Options
Near the top click the Import Options From Lab button.
Choose your favorite print lab from the Select a Print Lab drop down list.
Choose a product type from the Select a Product Type drop down list
Click Next Step.
Choose the items you want to offer on your storefront from the Select Products to Import list.
Click Next Step.
Note: Uncheck the box for Only Display Popular Products to see all of your labs offerings in regards to this product list.
In the Add the Selected Items to the Following Purchase Option Group: section you can rename the group or use the one that is listed in the New Group box. If a group with this name already exists, the purchase options will be added to the existing purchase option group with the same name. If you would like to use a Purchase Option Group that you created previously you can choose the Existing: option and select your group from the drop down box. If you have questions about this you can read our article on Purchase Option Groups.

Note: You can move your purchase options between groups at any time after the options have been created.

Choose the Auto-set Pricing option if you wish to have these prices automatically added to your pricing sheet.


Enable this option to automatically set the pricing for the items you're importing, based on the lab's current price for the imported items.

The automatic pricing can be anything from a 0% markup (a.k.a. "Lab Costs") to a 2000% markup. For example, marking a $10 lab product up by 100% will result in that item being listed for $20 on your storefront.

You can also choose to round the price to the nearest whole amount ($10.00, for example), to the nearest .95 ($9.95, for example), or to the nearest .99 ($9.99, for example).

Click the Import the Products button.
What's next?
Once you have added items to your Purchase Options page you can go view them and make any changes or edits you wish to.
From the main menu click on Selling » Purchase Options.
Locate your newly created items in their respective Purchase Option Group.
There you can click on the pencil icon next to a product to view and edit it.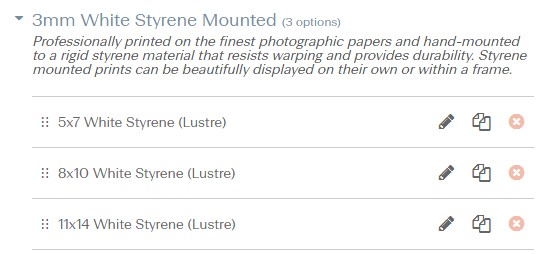 Note: We have provided professional descriptions for each product and also Example Images for those products that require one.