If you would like to give prominence to certain galleries and have them placed above the other galleries on your storefront you can follow the steps below.
From the main menu click on Photos » Galleries.
Click on the name of a gallery you would like to showcase.
Scroll to the Gallery Options section.
Check the box for Showcase This Gallery.
Click Save.
Next, click on Photos » Preferences.
Click on the Advanced button in the upper right corner.
In the Homepage section click on the box for Gallery Sort Order.
Choose Showcased.
Click Save.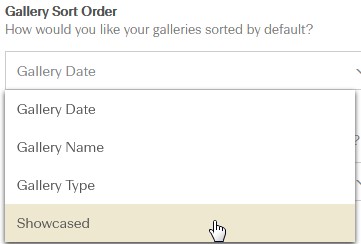 On the storefront the Showcased galleries will be placed at the top of the other galleries and have a star icon shown.