Creating a Highlights category will allow you to put your best photos forward, and it should serve as an easy way to get your clients excited to view (and purchase from!) the entire gallery. The following steps will guide you through adding photos to a Highlights category.

From the main menu, click Photos » Galleries.
Locate your gallery and click on Photos » Manage Categories.
Click View Photos on one of the categories.
Click on one or more of your favorite images in that category then click Actions in the upper right corner and then click Add to 'Highlights'.


You can now visit the Categories page for that gallery and you will see a newly created Highlights category with your selected images listed above your other categories.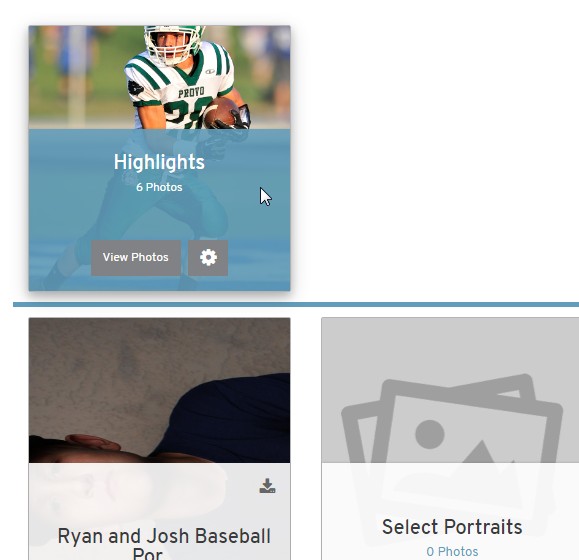 • The images in the Highlights category are copies of the original images. The images will appear in both categories. Replacing or modifying an image in the original category will also replace and/or modify the same image in the Highlights category. Deleting an image from the Highlights category will NOT delete the image from the original category.
• The Highlights category is displayed as the first category within the gallery on your storefront. It can be renamed, given a short description, etc., just like the other categories in the gallery.
• The images within the Highlights category can be sorted in any order you'd like, and it won't affect the sequence of the images in the original categories.
• Any of the images you have selected to be in the Highlights category will have a thumbtack icon on its thumbnail view of the image.