The Add to Homescreen option is available through the Share menu in Safari on your iOS device. If you're not seeing the option, it's possible that you are viewing the app on an unsupported browser. For example, if you clicked the link in an email you may be viewing it in Gmail's web browser instead of in Safari. Try copying the link, and then pasting into the address bar in Safari to see if that clears up the issue for you.
Once you are viewing the app in Safari, click the Share icon (the square icon with an arrow pointing up out of the top), and select the Add to Homescreen option:
After the Add to Homescreen option has been clicked, simply provide a name for the icon that will be displayed, and click the Add button: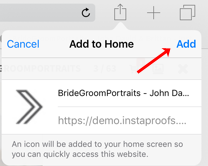 And that should do it! If you're still having trouble after this, please shoot an email to support@instaproofs.com.