If you have two (or more) orders that a client has placed, you can combine the orders for fulfillment purposes. Here are the steps to do that:
From the main menu click on Selling » Orders.
Check the boxes next to each order you want to combine.
Click the Select an Action box in the upper right corner.
Choose Combine the Selected Orders from the bottom of the list.
Click Yes on the confirmation pop-up box.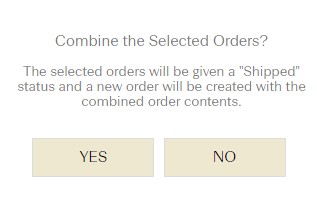 Select a Shipping Address for the combined order. You can choose on of your client's addresses, or your own.
Click Combine The Orders to complete the process.
The combined order will be shown on your Orders page, and under the Gallery heading it will read Combination Order. The original orders that were combined will all be marked as Shipped at the time they are combined.
Combining the orders and sending them to the print lab will result in only one shipping charge from the lab. Combining orders in this way can save you from being charged multiple shipping charges from the print lab.