You can add watermarks to your images by following the steps outlined below:
Step 1: Upload your own custom watermark file
From the main menu click Marketing » Logo & Branding.
Locate the Watermark Image box and click Browse to find your watermark image file on your computer.

This image will be placed over your images to create a watermark effect.
The watermark should have a maximum height of 634px and maximum width of 2048px.


Step 2: Select where to place the watermark on your images
From the main menu click on Photos » Preferences.
Scroll down to the Photo Display section.
Choose either the small or large watermark option.

Small - Select zero or more positions to display your watermark image. If no positions are selected, no watermark will be displayed.
Large - A single large copy of your watermark image will be displayed. You must upload a fairly large watermark file to take full advantage of this option.

Set the Watermark Opacity: 0 = invisible, 100 = fully opaque.
Click Save.
Note: If no watermark image has been uploaded, a small default watermark will be used in its place. We strongly recommend uploading your own watermark file.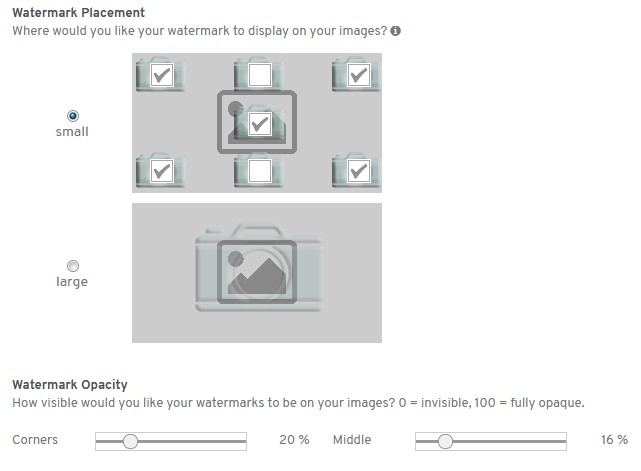 Optional: Enable or disable watermarks for each of your galleries individually
After you've uploaded your watermark file and chosen the watermark position(s), the watermarks will be visible by default on all of your future galleries. However, if you'd like to specifically enable or disable the watermarks on a gallery-by-gallery basis you can do that as follows:
From the main menu click on Photos » Galleries.
Click on the name of your gallery and scroll to the Gallery Options section.
Check the box for Display Watermarks.
Click Save.