What is it?
As the name implies, Multi-image & Multi-option Products are products that require your clients to either select more than one image to accompany the product, or they require the selection of a specific version (or "option") of the product.
A few examples of these types of products include:
Download Packs (10 instant downloads, 20 instant downloads, etc.)
Multi-image Packages (two 8x10s + two 5x7s, two 8x10 Canvas Prints, etc.)
Parent Album (Select up to 40 images, etc.)
Canvas Wraps (8x10, or 11x14, 16x20, etc.)
Black Framed Print (8x10, 11x14, 16x20, etc.)
Full Gallery Download (Full Resolution, Low Resolution)
etc.
These types of products are listed in a couple of different areas on your storefront: (a) In their own "Products" category, (b) below the images on each of your image categories, and (c) in an "Add Albums or Products" section linked from the Add to Cart page.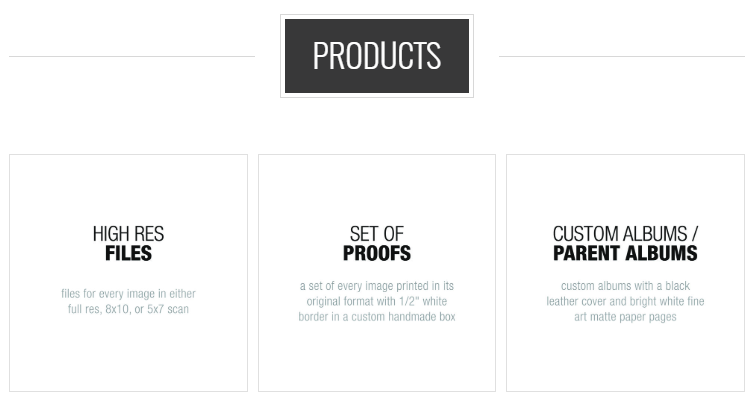 Creating a product of this type is a two-step process, similar to creating Full Gallery Downloads.


Step 1: Create the Product
To create a Multi-image & Multi-option Product, follow the steps outlined below:
From the main menu, click Selling » Purchase Options.
Click the blue Create New Purchase Option button at the top of the page.
Select the Multi-Image & Multi-option Products option.
Give the product a Name. We recommend something fairly general, such as "Digital Download Packs", since you will also be creating options within the product. You can have as many options as you'd like within the product.
If the product requires images to be selected for it, place a checkmark in the box labeled "The purchaser must select images to complete this product."
Add a Sample Image if you wish.
Enter a Description for the Product. Remember, this is a general product description since each of the options can also have its own description.
Select the gallery types that you'd like the product to be made available on.
Click Next to move to the next step.
Step 2: Create the Product Options
Each Multi-image & Multi-option Product must have one or more product options defined for it. A product option is a specific version of the product. For example, if you are selling download packs you might have options for 5 image downloads, 10 image downloads, and 20 image downloads.
To set the product options up, do the following:
Click the Create New button on the Manage Product Options pop-up page.
Give your option a Name such as 10 Digital Downloads.
Set the Option Price. This is the price that your clients will pay to purchase this product option. **Please note that the price on these can not be $0.**
In the Settings area you can define these optional items:

Allow Notes: Enable this option to allow the purchaser to write you a note related to this product when they purchase it.
Limited Quantity: Enable this option if there are only a limited number of these products available. For example, if you are selling a limited-release fine art print you can limit the number of copies that can be purchased.
Example Image: Add an image so your client can see a sample of what this option will look like.

Add a Description, this might include the details of what is included in this option. For example:

This package includes:
1-8x10 print
2-5x7 prints
4-4x6 prints

If the option requires that your clients select images to go with it, select the specifically required items in the Included Prints & Products section. Click the +/- buttons next to the type of prints your clients will need to select to accompany this product.
If applicable, add any Custom Shipping Costs for the product option.
Click Save.
Repeat these steps to create multiple options.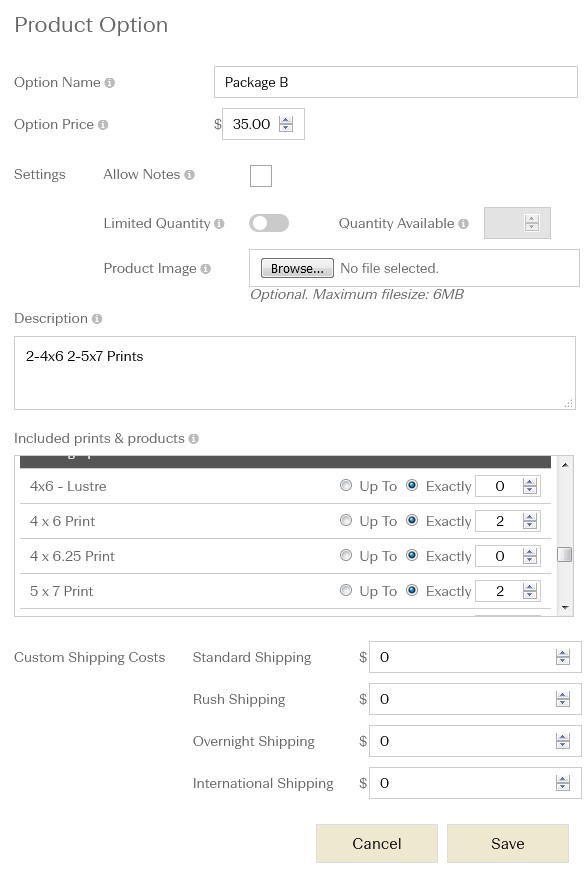 Note: If you plan to sell digital download packs, you must first create an Instant Image Download purchase option.