Manually Sending the Invite
You can manually send a gallery invitation to your clients by doing the following:
From the main menu, click Photos » Galleries.
Locate your gallery and click Visitors » Manage Visitor Emails.
If the email addresses haven't already been added to the gallery, add the email addresses through the form at the top of this page. Once you are finished adding the email addresses refresh the page.
In the Collected Email Addresses section, place a checkmark next to each of the addresses that you'd like to send the invitation to. If you'd like to send the email to all of the collected email addresses, click the checkbox in the top row to select them all.
Click the Email Selected Visitors... box below the list of email addresses.
Give your email an Email Subject.
Select the email template you'd like to send.
Make any changes you'd like with the View and edit the email content check box.
Click Preview Email to preview the email before sending it.
Click Send Email to send the chosen email template to the selected email addresses.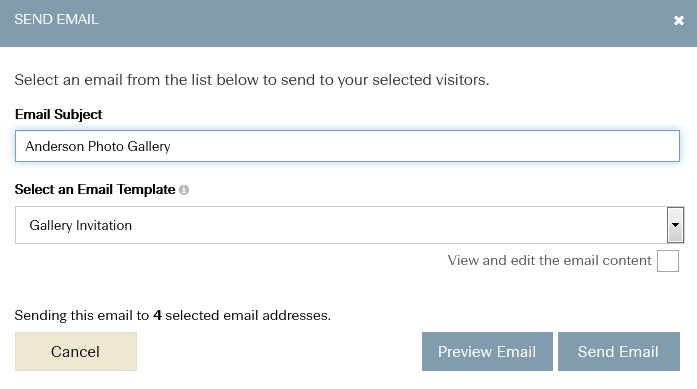 --
Note: Our system has a set of checks and balances in place to try and avoid the potential abuse of our email system; if you are not seeing the "email the selected visitors" option, please shoot an email to support@instaproofs.com to request to have the option enabled for your account.
Automatically Sending the Invite
If you would like the system to automatically activate your galleries and send out their Gallery Invitation emails, you can set that up as follows:
From the main menu click Photos » Galleries.
Click on the name of your gallery.
Scroll down to the Access section.
Set the Status option to Schedule for a Future Date.
Set the date that you'd like your gallery to go live on.
Put a checkmark in the Auto-send global invitation email? checkbox.
Click Save.
On the morning of the date you selected, the gallery will become active and all of the email addresses that are then associated with the gallery will receive the gallery invitation email.