Preparing For Your First Gallery
Before you can create your first gallery, you'll need to the following:
Create one or more Gallery Types
Create one or more Pricing Sheets

Once you've got those couple of things done, you're ready to create your first gallery.
Creating a Photo Gallery
Creating a photo gallery can be done as follows:
From the main menu, click Photos » Galleries.
Click the Create New Gallery button.
Fill in the details for the gallery, such as the name, gallery type, location, shoot date, etc.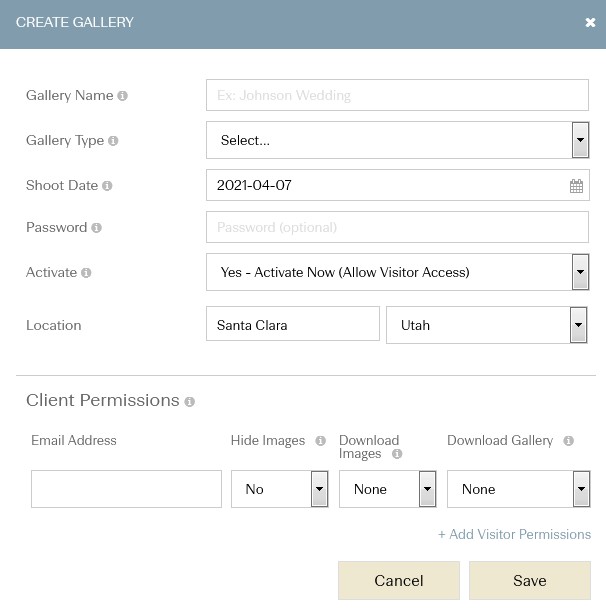 Add Client Permissions, if applicable.

Email Address - This is the email address that will be associated with this set of permissions.
Hide Images - Should this person be able to hide the images in the gallery from others?
Download Images - If this person is owed a specific number of free image downloads, select the appropriate number of image downloads here.
Download Gallery - If this person should have permission to download the entire gallery, select either Low Res or High Res from this droplist.

Click the Save button to create the gallery.

Adding Image to the Gallery
After your gallery has been created, the page will refresh and you'll see the new gallery in your gallery list. To add images to the new gallery click the Photos button and select Upload Photos (Web).
For additional image upload options, please see the following article: How can I upload images to my gallery?