You can update the status of an order that has been self-fulfilled by following these steps:
From the Order Details page click on the Update link found next to the Order Status label.
Change the Order Status value to Ordered if the order's details have been sent to your print lab, and then come back and change the status to Shipped once the order has been sent (or given) to your client.
You can also use this area to keep track of the package tracking number.
Click Update Status to save your changes.
If you'd like your client to receive a notification email related to the status update, simply click the Email Customer toggle before updating the order's status.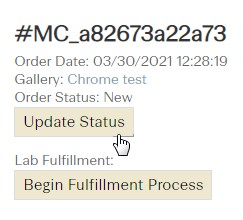 If you would like to bulk update your orders you can follow these steps.
*From the main menu click on Selling > Client Orders.
*Place a check mark next to any order you want to update.
*In the upper right corner click on the Select an Action box and choose Mark Ordered or Mark Shipped depending on the situation.
The orders will automatically be updated to their proper status.