Upselling is a sales technique where you attempt to induce your customer to purchase a more expensive item, an upgrade, or an add-on in an attempt to make a more profitable sale.
How it Works
In our system the words add-on and upsell are used interchangeably, and they work like this:
Your client selects a print size to purchase.
They are immediately offered additional (more expensive) purchase options, such as different paper types, a canvas upgrade, mounting options, or even a discounted instant download to go along with their physical print.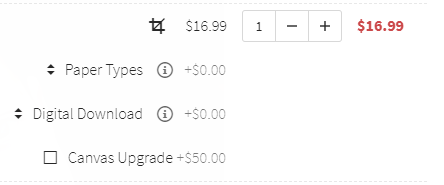 Similar to creating a full gallery download purchase option, there are two steps to creating add-on options.
Step 1: Create the Upsell Product
From the main menu, click Selling » Purchase Options.
Click the Create New Purchase Option button.
Click the Up-sells & Add-ons option.
Fill in the details, such as the name, description, and which gallery types to offer the upsell product on. You can also add an Example Image if you wish.
Click Next to save the product.
Step 2: Create the Upsell Options
Each upsell product must have one or more product options defined for it. A product option is a specific version of the product. For example, if you were selling Mounting you might have a Styrene Mounting product, with the product options being 2mm Black, 2mm White, 3mm Black, and 3mm White.
To set the product options up, do the following:
Click the Create New button on the Manage Product Upsell Options pop-up page.
Give the option a Name and a Description.
If the item is an instant download, enable the Instant Download setting and define the specific Download Size.
Add an Example Image if you wish to.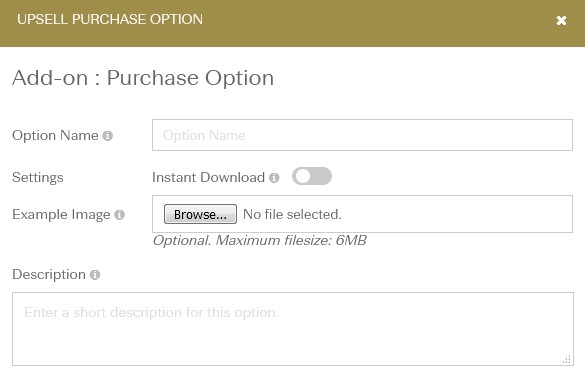 Below the description area is a section that lists all of your existing print sizes and single image products; this is the section where you will provide pricing for your upsell option.

The pricing that you provide for each option is added to the original item's purchase price. For example, if the original print size is $10 and your upsell option is $5, the new total will be $15. The price cannot be less than $0. You can also add any extra shipping costs to this section as well.


Leave the price empty on any items you do not want to offer the upsell option on.

Click the Save button to save the upsell option.
To create additional options, repeat this process.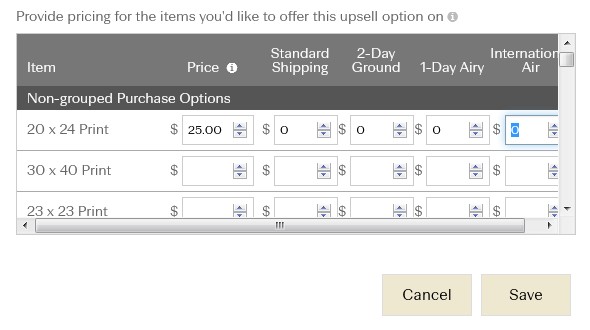 If you've already created the upsell product but forgot to create the upsell product options, you can get to the option creation page by doing the following:
Click the Manage Options link found next to the upsell product's option count.
Click the Create New button to bring up the Purchase Options page.
Fill out each section as needed and click Save.
To create additional options, repeat this process.