Gallery types are containers that are used to organize your galleries and provide a default set of settings for the galleries associated with them. If you shoot multiple types of events you might create a gallery type for each of the different types of events that you shoot; such as Wedding, Family, Birth, etc.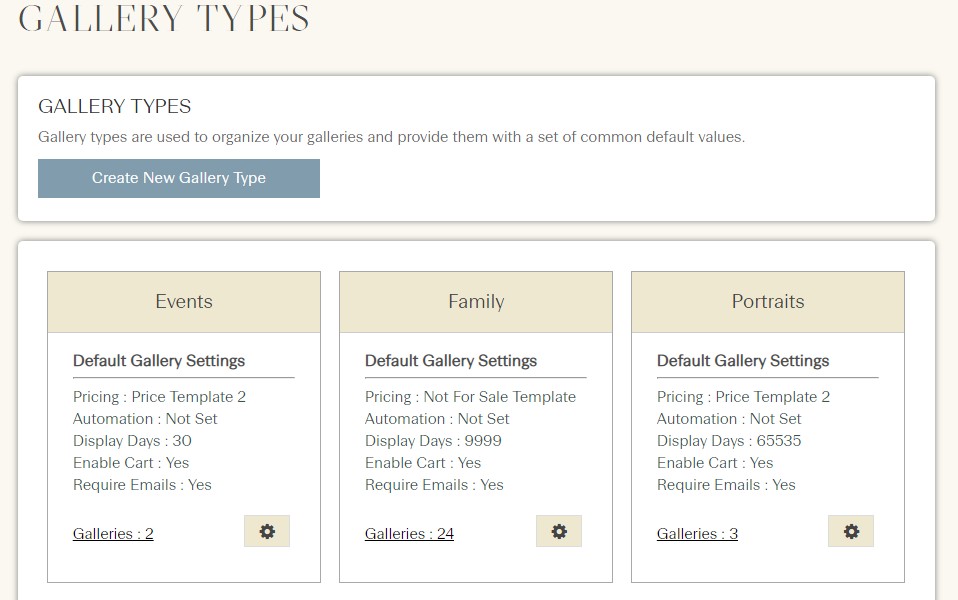 Each gallery type is configured with a set of default preferences that are applied to new galleries when they are first created. For example, if you'd generally like your Wedding galleries to stay online for 365 days and your Family galleries to stay online for only 90 days, you can set those defaults up through the gallery types, and any new galleries that are created will automatically receive those settings.
(Note: Changes to your gallery type settings are only applied to new galleries that are created after the changes have been made. Additionally, each of the settings can be adjusted through the individual gallery settings area after a gallery has been created.)
Some of the different default settings that are available through your gallery types include:
The layout of the thumbnail images inside your client galleries
Whether or not to show the associated galleries on your homescreen
The number of days the galleries should be enabled for
Whether or not to require email addresses from your visitors
Enabling or disabling the cart functionality in your galleries
Discount Days Sale or Marketing Automation
And many more
You can access the Gallery Types page through the Photos » Gallery Types menu option.