Invoices are used to collect a payment for something arranged outside of the Instaproofs system. For example, many photographer use invoices to handle session payments and upgrades to previous purchases.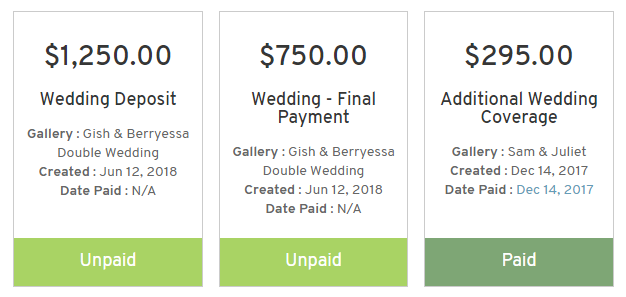 Creating an Invoice
From the main menu click on Selling » Invoices.
Click the Create New Invoice button at the top of the screen.
Add the details for the invoice, including specific line items such as "8 hours wedding coverage", "Second shooter", and "20 page Signature Album."
Choose an Associated Gallery for the invoice. Each invoice must be associated with a specific gallery. This can either be a gallery unique to an individual client, such as "Thomas Wedding", or it can be a more generic gallery such as one titled "Wedding Invoice" that is used for invoices for multiple clients. Note: If you don't have a gallery set up to associate with the invoice yet, head into the Photos » Galleries page to create one, and then come back to this page to create the invoice.
Add Client Details. Your client's name will primarily serve as a reminder to you of who the invoice was intended for. Any email addresses that are provided will be used for sending the invoice reminders to (if they are enabled).
Enter the Invoice Line Items. Each invoice must contain one or more line items. Line items describe what your client is paying for. A few example line items might include: Engagement Session ('Bronze' Package), Second Photographer, 3-Hours Additional Coverage, Travel Fees (100 - 200 Miles). Many photographers choose to include the cost of each detail along with the description. For example: Travel Fees +$119, Early Booking Discount -$35, etc.
You can also add an optional Note To Client.
Provide the Payment & Installment Details, including any required sales tax amounts. If you aren't sure what the sales tax amount should be, click the Need help? link to display a small calculator. If you would like to have your client pay for the invoice with installment payments you can view this tutorial to see how that is done
The optional settings allow you to add a Client Document as a PDF. If you have a previously-signed contract in place with your client, or if you have a general agreement or set of instructions you'd like to associate with the invoice, you can attach a PDF to the invoice through this optional setting. You can also check the box for Missed Payment Notification. Enable this setting to be notified seven days after a payment's due date, if the payment hasn't been made.

Note: The default setting for this option can be changed through the Misc section within the Selling » Selling Preferences page.

If the invoice you're creating is similar to other invoices you think you may create in the future, enable the Save as Template option to create a template out of the invoice you've just defined.
Click the Save button to save the invoice details.
Invoice Options
Once an invoice has been created you can head back to the Invoices page and locate your new invoice within the Invoice List. Click on the Options button next to any of the existing invoices to choose from the following items:
Edit the Invoice - Use this option if you need to add or remove details on the invoice.


View Installments - If this invoice was setup with payment installments you can see when those are due and if they have been paid. You can also click the Paid Offline? link if someone has paid you directly with a check or some other method outside of the Instaproofs system. You can read more details about this option in this article.
Create Shareable Link - If you'd rather send your client a direct link to the invoice rather than using our system to send them an email, selecting this option will create the link which you can then copy and paste into an email using your own email provider.
Email the Invoice - You can use our system to directly email the invoice to your client. Simply add their email address, modify the email content if you'd like, and click Send Invoice.
Delete Invoice - Removes an invoice from the Invoice List. Invoices that have been deleted cannot be un-deleted, and they cannot be paid by your client afterwords.
Client Payment
When your client receives a link to their invoice, they'll click the link and be taken to a page containing the invoice details, including a Pay Invoice button. Clicking the Pay Invoice button will allow them to provide their credit card information and submit the invoice payment.